A Typical Thursday
So I'm driving down the road to meet a couple of friends for a couple of drinks when suddenly the guy on the radio is talking about me. No, really. I'm not crazy. Not that kind anyway.
It seems
Hugh Hewitt
found my post last night interesting (wrong too, but I'll remember it my way, thank you very much), so he read it on the air. Gave me a nice plug too.
Unfortunately the one he chose was not stated as well as
the one I wrote the next morning
in clarification. But darned if I didn't log in after returning home to discover he linked to the better one on his website.
Any "snubbed" feelings are certainly gone now.
And it's nice to have a group of friends who were actually interested in the fact that some right-wing radio guy mentioned my blog. Where can you find a group like that? I have no particular formula, but on Thursday evenings
Keegan's Irish Pub
is a pretty good bet. And that's where I happened to be heading when I heard Hugh mention Bogus Gold on the radio.
Very good timing.
Hugh was very much a topic of discussion tonight, as one might well imagine on the release of a book about blogging that happens to mention some of the folks who were in attendance. I collected a few pictures - and note the ubiquity of people carrying around copies of Hugh's book. Totally unexpected! Bloggers just can't seem to put it down.
We did have the usual round of trivia, and I was privileged to be on the second place "Captain Fishsticks and Crew" team (So was
Mitch Berg
and his friend I don't know if I'm supposed to name). The
Fraters Libertas
won again, of course. But our second prize - a free drink - was identical to their first prize. So it seems the bar deemed us co-champions, in spirit if not in name (or score).
Afterward was time for socializing. Here are some candid shots.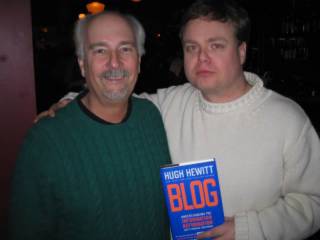 Here I caught
Fraters Libertas
blogger Saint Paul (in the white sweater on the right) chatting with bar-owner Terry Keegan himself - a man who seems to have picked up on how to use blogs to win business rather naturally, so his endorsement of the book is no surprise.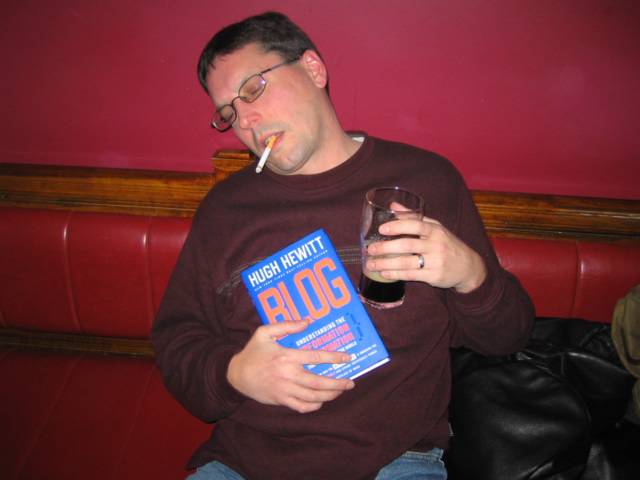 Whoops! A bit late to ask Fraters Libertas blogger Atomizer his opinion.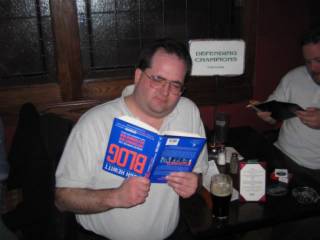 Here Jim Styczinski (a.k.a. Sisyphus, from
Nihilist in Golf Pants
) starts cramming for next week's Keegan's trivia contest (You'll note in the background that he was on the winning Fraters Libertas team for this one).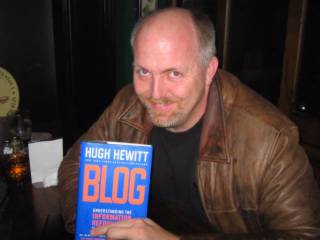 Mitch Berg, from
Shot In The Dark
, hasn't lost that smile since he read the reference to his site in the book.
That's Gary, from
Dayton v. Kennedy
on the left, and Noodles from
Peoples Republic of Minnesota
on the right. Though Gary would likely object to being described as "on the left." The lovely and gracious Mrs. Noodles declined to be included, though rumor has it she'll be guest blogging on PRM shortly.
That's
Policyguy
, torn away from his new book long enough to offer his brightest smile for the camera.
Here we see Jo, from
Jo's Attic
, debating with
Craig "Captain Fishsticks" Westover
over just how wonderful this book is. At least I think that was the topic. Kind of loud at the time.
Margaret, from
Our House
, hurrying home presumably to dive into that book she's holding up.
And Margaret's husband David, also from
Our House
, showing his best "evil conservative" face, so as not to disappoint his local lefty audience. The addition of Hugh's book should drive them even moonbattier than David already manages with the
Taxpayers League
.
And finally we have Saint Paul, from the Fraters again, posing with
Nihilist in Golf Pants
, as Jim "Sisyphus" Styczinski looks on.
A couple of other bloggers where there. Some declined to be pictured. Some left before I got the camera out. But nice chatting with
Flash
,
First Ringer
, and
Chumley
.
A fun night. Thanks to Hugh for the plug, and for writing the book. Truth be told, I was the only one who brought a copy tonight, and therefore those pictures were somewhat staged (I can hear the gasps of disbelief). But truth also be told, the book was very much being discussed, with the only unfavorable terms coming from those still waiting to receive their pre-order from Amazon.